This post contains affiliate links. Affiliate disclosure: As an Amazon Associate, we may earn commissions from qualifying purchases from Amazon.com and other Amazon websites.
When some people think of food festivals many picture a town gathering of the usual suspects from around town where they go and stuff their faces with hot dogs just to see who can chug the most of them and not barf. Such a classy picture, isn't it? Well, erase that from your mind.
Because for quite a while now food festivals have been civilized events where food enthusiasts and eager cooks come together to share their passion and, literally, feast on it. A food festival is a perfect place to go if your taste buds' degustation of nothing but the best meals is an intrinsic part of who you are. Check out which are the best food festivals across the USA right here.
It's a month-long food festival that takes place in May with activations all throughout the city as well as a week long night market. They have panels with celebrity chefs and promote pop-ups throughout the city.
The world's culinary stars will once again align over Scottsdale, Arizona this spring as Nirvana returns for a third year to Sanctuary on Camelback Mountain Resort & Spa, April 24-28. Scottsdale's premier food, wine, spirits and music event continues to grow in popularity and critical renown, leading Sanctuary to add a fifth day to this year's program. That means more opportunities than ever for festival-goers to get up close and personal with celebrity chefs, mixologists and winemakers at a jam-packed line-up of fine dining events, tastings, themed parties, and more.
Sanctuary's own Executive Chef Beau MacMillan is among the headliners on a growing list of luminaries that includes Todd English, Matt Carter, Christopher Gross, Robert Irvine, Scott Conant, Jose Garces, Marc Murphy, Jillian Vose and Tony Abou-Ganim. And a solid lineup of national musical talent will get guests on their feet, including returning headliners D. Vincent Williams and the Nashville All-Stars. Events will take place both on and off the resort grounds, making this year's Nirvana a festival that truly highlights the best of greater Scottsdale. A variety of indoor and outdoor venues make the most of Scottsdale's beautiful spring weather and legendary sunsets.
Two new events join the 2019 program: Wood, Wine & Wagyu and Nirvana's first-ever late-night event – Nirvana After Party at Fat Ox. These join crowd favorites Flutes & Coops, Best of the West, Bourbon Street Blues, Rosé Parté, Tequila & Tortillas, and the Celebrity Golf Tournament. Also back are Nirvana's intimate Master of Taste winemaker dinners, which have grown from two to four this year, due to popular demand.
Showcasing the best of the ever-expanding Rhode Island culinary scene, the Eat Drink RI Festival is a four-day, all-local food festival that is held throughout downtown Providence every April. The event regularly features 80+ chefs, farmers, bartenders and producers that put their cuisine on display in various events, the biggest being the Grand Tasting.
Last year's festival was filled with events including 'Sommelier Smackdown' where top Sommeliers from Rhode Island competed in a blind taste testing, 'Dinner by Dames' at Skyline at Waterplace featuring a multi-course dinner with some of Rhode Island's most talented female chefs and bartenders and 'Grand Tasting' at the Rhode Island convention Center where guests enjoyed locally produced beer, wine, spirits and food.
Crave RI is a two-day food festival that shines a spotlight on the unique and enticing culinary scene that Rhode Island has become known for. Last year, Crave RI hosted more than 100 local restaurants, over 150 beer and wine profiles and live demonstrations from notable local chefs.
The event brings together local businesses, members of the community and families from across the state to enjoy great food and drink in Downtown Providence at the Dunkin' Donuts Center.
Honorable mentions from last year's Crave RI include Matunuck Oyster Bar, Red Fin Crudo + Kitchen, Tallulah's Taqueria and Bayberry Beer Hall and Waffle. "
The Ocean State Oyster Festival aims to raise awareness of, and celebrate, Rhode Island's aquaculture industry. The festival is packed with oysters and celebrates the importance of aquaculture in Rhode Island. Alongside the educational opportunities, the festival features local oysters, live music, food trucks and more.
The 2019 MLB FoodFest presented by Budweiser hosts its first Los Angeles based food festival highlighting the best concession items of each of the 30 MLB Stadiums. The selection ranges from ballpark classics to stadium-exclusive fan favorites and new items debuting this season at a number of ballparks.
Each MLB stadium will be represented with fan favorites like the World Series-winning Boston Red Sox's Hot Lobster Roll, Los Angeles Dodgers' Sisig Fries, the Diamond-Backs' Churro Dogs as well as the Mariners' Toasted Grasshoppers. International favorites will include: Fish and Chips with Mushy Peas from London, the Sultanes de Monterrey "Monster Dog" from Monterrey, Mexico and Japanese Curry from Tokyo. To review all offerings, click on to the MLB FoodFest full menu. FoodFest la will take place at Magic Box at The Reef, 1933 S. Broadway, Los Angeles, CA 90007.
It's returning for the 6th year from Thursday, November 7-Sunday, November 10, 2019. The premiere plant-based festival offers five full days of seminars, tasting events, dinners, brunch, and more – featuring local, regional and national chefs, restaurants, exhibitors, and personalities – all while raising awareness for sustainable living.
This annual festival celebrates the delicious strawberry harvest with fresh strawberry shortcakes on Friday, May 24, 2019 from 11 a.m. until they disappear. This event happens on the courthouse square and East Court Street in downtown Franklin, IN.
Food vendors serve all day and into the evening. There is live music all afternoon and evening, and the downtown theatre, The Historic Artcraft Theatre, is showing the movie Grease at 2 p.m. and 7:30 p.m. There is a classic car cruise-in in front of the theatre.
Newport Beach Wine & Food, one of Southern California's most exclusive and acclaimed wine and food events, returns to the Newport Beach Civic Center for its sixth year from Thursday, October 3 – Sunday, October 6, 2019.
The weekend, filled with VIP events ranging from private chef dinners to yacht parties to exclusive wine tastings, is an opportunity for guests to rub elbows with James Beard award-winning chefs and Food Network & Top Chef stars like Duff Goldman, Richard Blais, Nobu Matsuhisa, and Hubert Keller, and enjoy tastings from over 40 of Orange County's top restaurants and wineries. The Grand Tasting event, which features unlimited small plates, celebrity chef cooking demos, live music, and more, will take place October 5th and 6th, with exclusive VIP events happening throughout the weekend.
With 40+ restaurants offering more than 250 menu items, Fall for Greenville is the best way to get a taste of the local cuisine. The FREE event, from October 11 – 13, 2019, offers more than 75 musical acts, culinary demonstrations, wine tastings and a craft beer garden with 25 breweries and over 50 different craft beer, throughout the weekend.
Welcome to the San Diego Bay Wine + Food Festival, where sailboats and sandy beaches serve as the backdrop to one of the country's most talked about weeks in food. Featuring dozens of events, hundreds of domestic and international wineries, the celebration of craft beer and spirits, local culinary legends and nationally recognized celebrities, and a Grand Tasting Finale on the stunning Embarcadero.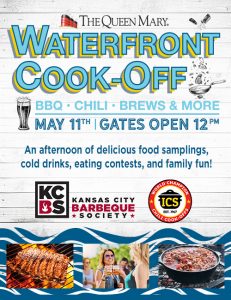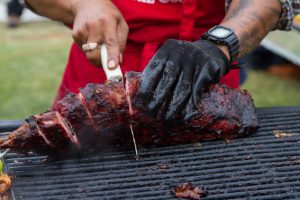 Spring into BBQ season with an all-new food festival and competition, the Queen Mary's Waterfront Cook-Off, on Saturday, May 11 from 12 p.m. to 5 p.m. Grab the family for a finger lickin' afternoon of fun with BBQ and Chili tastings, lawn and beer games, food eating contests, music and so much more. The Queen Mary's Waterfront Cook-Off offers something for everyone!
Guests will be able to enjoy delicious festival snacks, the game zone will offer giant Connect 4, beer pong, horse shoe toss, ladder ball, corn hole, and a mechanical bull ride. Grab the kiddies and groove to the beats of DJ Rod Epic and DJ Cordova, or enter the watermelon eating contest or pie eating contest in the afternoon for a chance to win cash and prizes!
---
Who contributed to this article?